China Made Strong Tension Crane Rolling Drum

>winding drum is the component to wind wire rope in the lifting mechanism. Rolling drum consists of drum shaft,
flange type annular gear,drum hub, bearings, bearing pedestal.When one end of drum is equipped with the switch of rotary type position limitation limiter, it must ensure to make drum shaft and rising limit switch rotate synchronously.
->Drum material generally adopts cast iron. For special use, drum can be weld with cast steel or steel plate.

Technical parameters of winding drum
| | | | | | | |
| --- | --- | --- | --- | --- | --- | --- |
| NO. | specification | lifting capacity (t) | pulley ratio | screw pitch | lifting height (m) | weight(kg) |
| 1 | φ300×1000 | 3.2 | 2 | 14 | 12 | 264 |
| 2 | φ300×1500 | 3.2 | 2 | 14 | 18 | 342 |
| 3 | φ400×1000 | 5 | 2 | 16 | 16 | 334 |
| 4 | φ400×1500 | 10 | 3 | 16 | 16 | 454 |
| 5 | φ500×1500 | 16 | 3 | 20 | 16 | 753 |
| 6 | φ500×1500 | 20 | 4 | 20 | 12 | 753 |
| 7 | φ650×2000 | 32 | 4 | 24 | 16 | 1500 |
| 8 | φ800×2000 | 50 | 5 | 28 | 12 | 2534 |
| 9 | φ800×4000 | 75 | 5 | 32 | 20 | 3390 |
| 10 | φ1000×4000 | 100 | 6 | 36 | 20 | 6070 |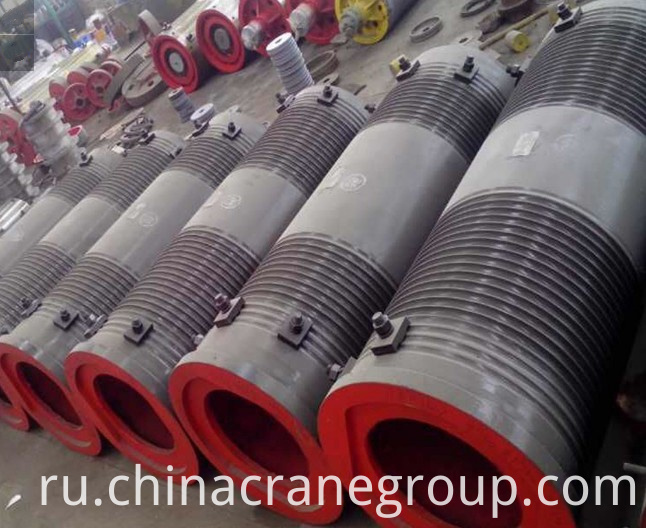 1. Crane drum is the component to wind wire rope in the lifting mechanism.

Crane drum consists of drum shaft, flange type annular gear,drum hub,bearings,bearing pedestal.
When one end of drum is equipped with the switch of rotary type position limitation limiter,it must ensure to make drum shaft and rising limit switch rotate synchronously.
Cast iron type crane drum

1. The material of this kind of crane drum is cast iron HT200.
2. Cast iron type crane drum is more
prevalent than the other two as follows.
3. Centrifugal casting is used in the process of production.
4. The wire rope can be better protected owing to the material of cast iron.
Cast steel type crane drum

1. The material of this kind of crane drum is cast steel.
2. It is rarer than cast iron type and steel plate crane drum because of the lower castability.
3. Centrifugal casting is used in the process of production
Stell plate type crane drum

1. The material of this kind of crane drum is steel plate, Q235, Q345.
2. It is more common than cast steel type crane drum.
3. Welding is used in the production process of steel palte type crane drum .
4. It is easy and convenient to produce.
Well designed wire winding drum - More Features of Crane Drum
Material: Q235 ,Q345 ,45#
Heat treatment :hardening and tempering,high frequency quenching,carburizing quenching and so on
Groove surface quench: HRC45-55
Groove surface quench depth: ≥2mm
Max processing diameter: 2,000mm
Inspection:all items are checked and tested thoroughly during every working procedure and after the product is finally manufactured to ensue that best quality product goes out in the market.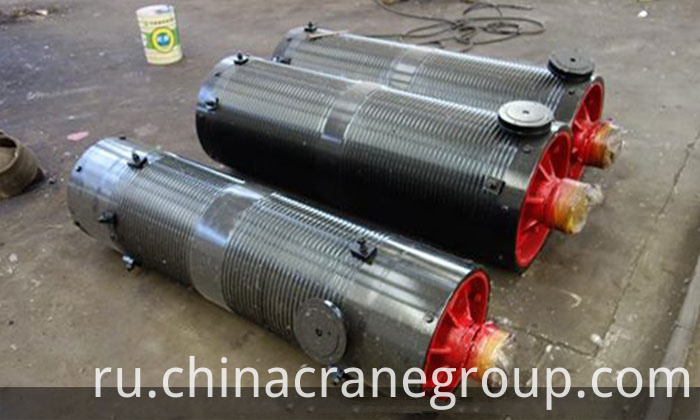 After-sale services
You can use our wheels at ease, the best after-sales service will be offered from Dgcrane.
One year warranty.
Providing free quick-wear part.
Low charge for continue maintenance when warranty is expired.
Exclusive engineer support at any time.
We can provide free training to end-users.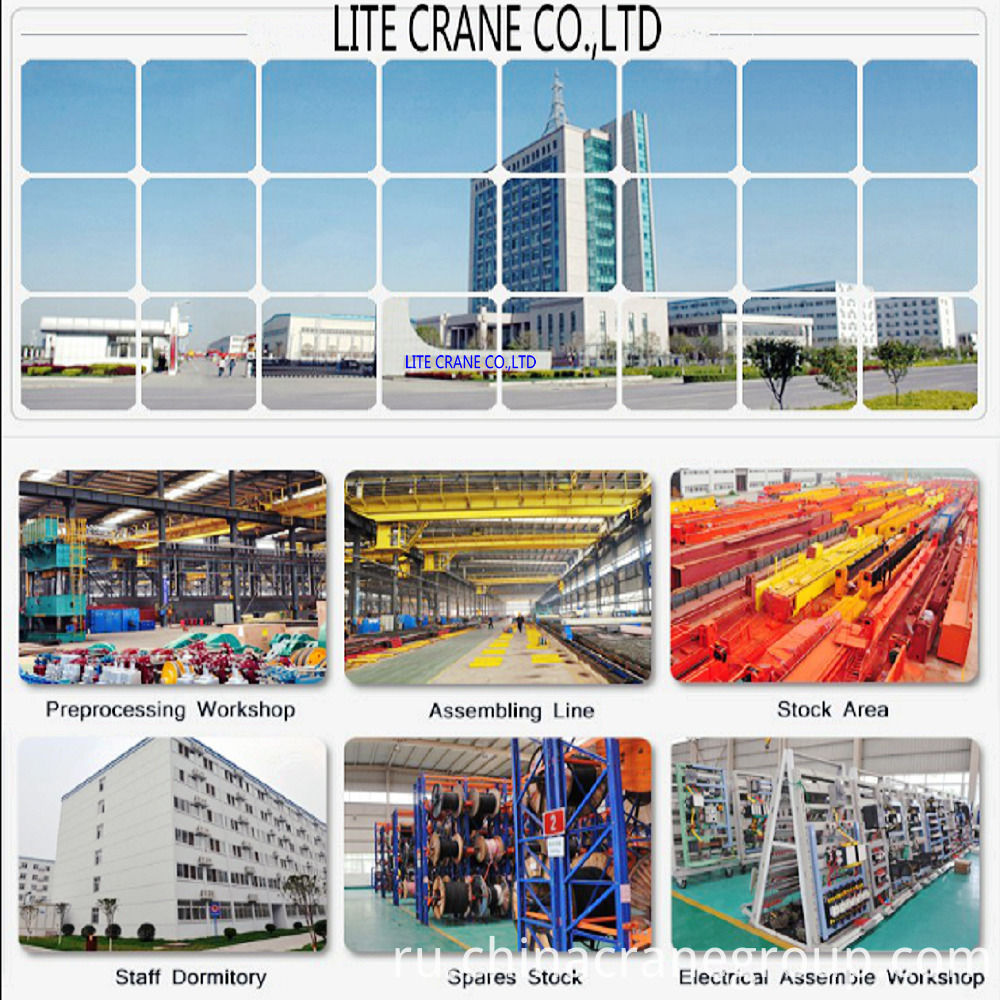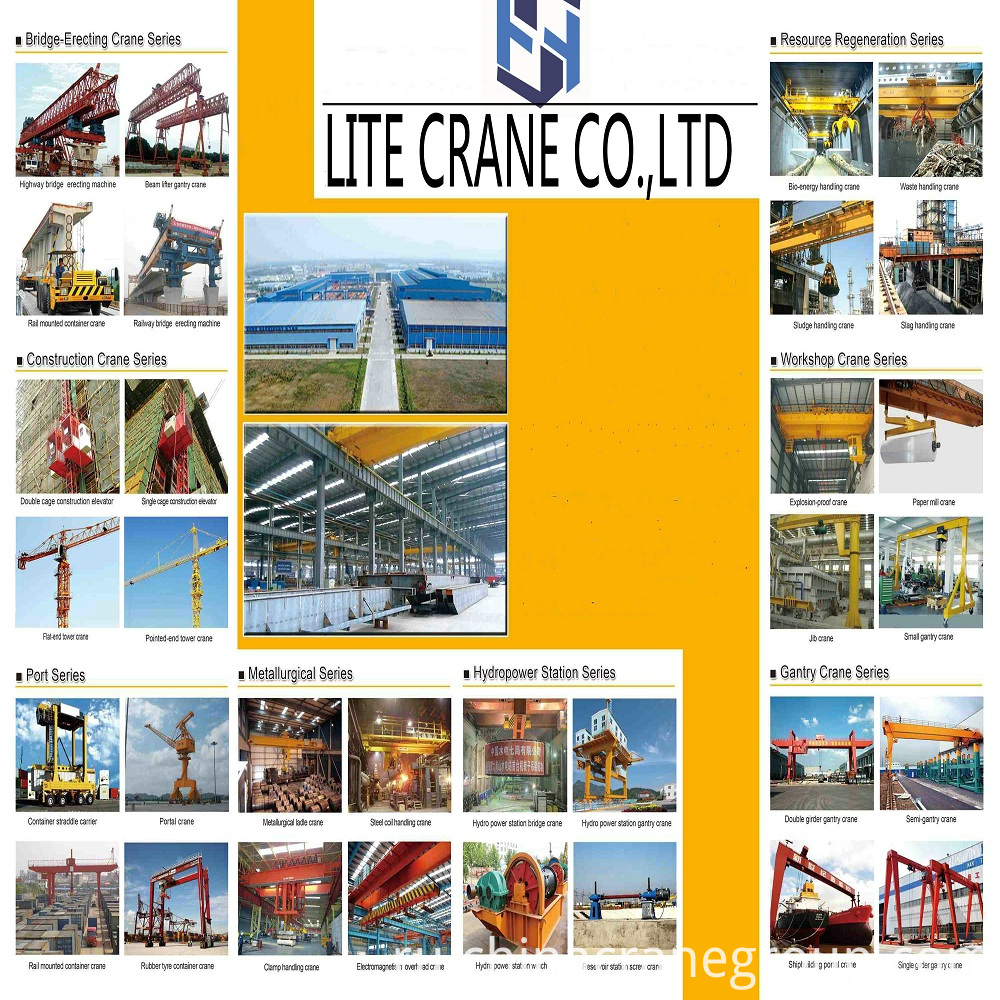 1. Our History:
LITE Crane Co., LTD has focused on top quality crane parts for over 14 years in China. We started as a
small operation, but now have become one of the leading suppliers in the crane industry in China. Today, LITE Crane Co., LTD has been one of the top producers of quality crane and crane parts, such as: electric hoist, single, double girder bridge, gantry, grab, casting, explosion-proof crane series and
accessories.

2. Our Factory:
LITE Crane Co., LTD is located in Xinxiang, Henan Province China. The company covers an area of 680 thousand square meters and owns more than 2700 employees. The annual sales of LITE Crane Co., LTD is 1.6
billion USD, there are more than 600 sales agencies at home and abroad and more than 180 middle& senior
engineering and technical personnel who are in charge of design and development of all products and also
own the development center of their new technology and products.

3.Our Product:
Our Products includes the following:
1, Crane accessories
2, Electric hoist
3, Single - beam cranes
4, Double - beam cranes
5, Bridge crane
6, Gantry crane
7.Lifting equipment and accessories
We supply crane products all over the globe to a wide range of companies worldwide.

4.Product Application:
The products are widely used in the following industry, such as power plants, nuclear power, water
conservancy, tunnels, bridges, petrochemical, metallurgy, construction, open-air warehouse, wharf,
workshop ...

5.Our Certificate:
Our company is a member of China Crane Association and vice chairman company of China Heavy Machinery
Association. It owns the production licenses of electric hoist, single & double-girder crane, the safety
of the approval certificate of manufacturing, installation and maintenance, the safety approval
certificate of the manufacturing of 320T bridge crane, portal crane and 280Tcasting crane.
The company has passed the quality system certification of GB/T19001 -2008/IS09001:2008, the
environmental management system certification of GB/T24001-2004/ISO14001:2004 and the occupational
health and safety management system certification GB/T28001-2001.

6.Production Equipment:
There are 1600 units of all kinds of processing equipment which can independently accomplish all the
processes such as milling, digging, grinding, pulling, boring, rolling, drilling, punching, cutting,
bending, welding, testing and heat treatment.

7.Production Market:
Our products are sold to more than 30 provinces, municipalities and autonomous regions in China, and
also exported to Australia, Vietnam, India, Thailand and some Southeast Asian countries. The annual
sales of double-girder and portal cranes is more than 3600 units, more than 23000 units single-girder
cranes, about 23000 units single-girder & double-girder electric hoist and accessories. The production
and sales of the single-girder cranes has lead the nation for seven consecutive years and the per capita
output and economic benefits are among the best in the same industry.

8.Our service:
Besides our existing molded products, LITECrane Co., LTD also can produce products according to the
drawings or samples from our customers. We control the product quality critically for every step during
the manufacturing from custom.

Группа Продуктов : Части Крана > Прокатки Барабана